At the time of writing, more than 250 Facebook Pages around the world, dedicated to Japan, Travel, Art and beyond, shared our film "Japan: A Journey Between Tradition And Modernity".
Putting this all together, we have reached the staggering numbers of more than 18,400 likes, 3,200 comments and 6,500 shares for a total count of 28,000+ interactions. In one word: AMAZING!
Our goal, when making this film, was to give pleasure to lovers of Japan, and create the desire to visit and enjoy this fascinating country to others. We really focused on genuine moments, we spent lots of time capturing gorgeous images night and day, but in the end it was truly worth it! As stated by one of our Japanese reviewer: "It tells a lot about Japan with no words", we surely couldn't express our feelings better.
Japan Community was the first Facebook Page to promote our work, followed by Japanese Culture & Style, and after a few weeks, hundreds of them have already joined this successful movement. Our film has now definitely travel more than we have in our entire lifetime, we have read so many comments in so many languages: English, Japanese, French, Spanish, Portuguese, Italian, Chinese, German, Bulgarian, Arabic, Vietnamese, Polish, Czech, Slovak, Slovenian, Romanian, Hebrew, Indonesian, Lithuanian, Greek, Hungarian, and Thai!
You have been so positive and grateful that we wanted to thank you all with this (almost

) handmade gift of our own. It was so difficult to pick only a few of your comments. We did our best with this collage that you should appreciate for sure.
By the way (if you haven't done it yet), don't forget to like our own Facebook Page here, we'd be happy to count you among AmnesiArt's family!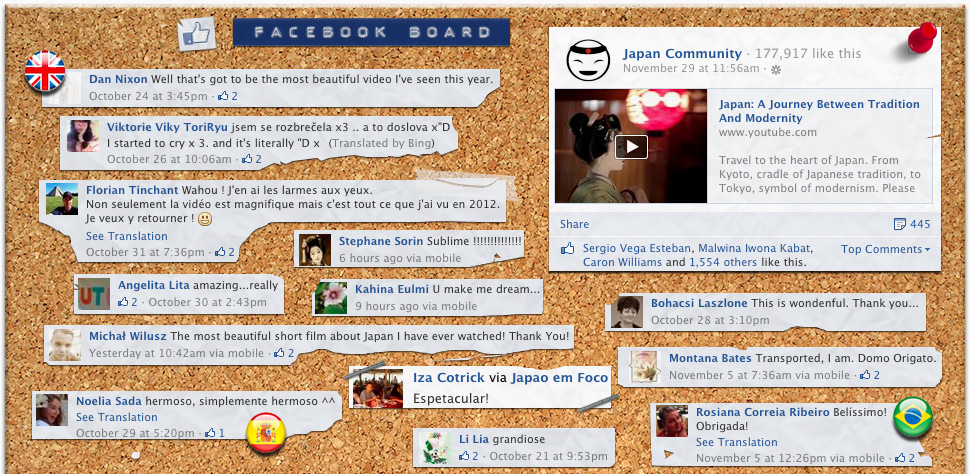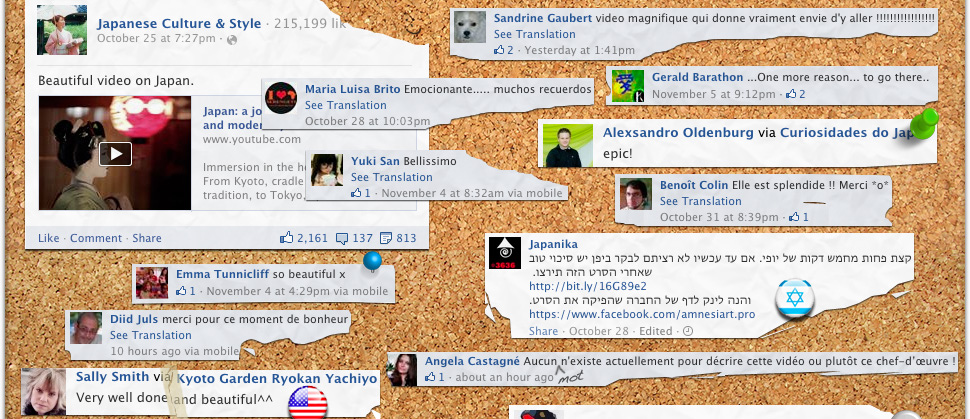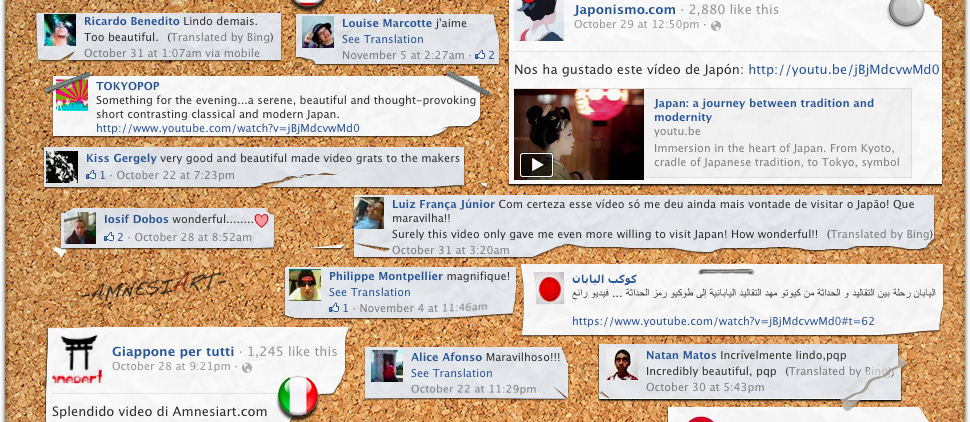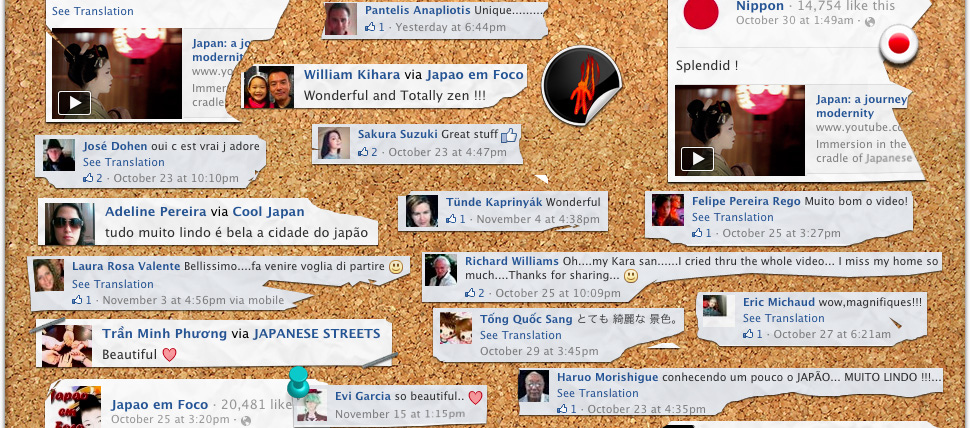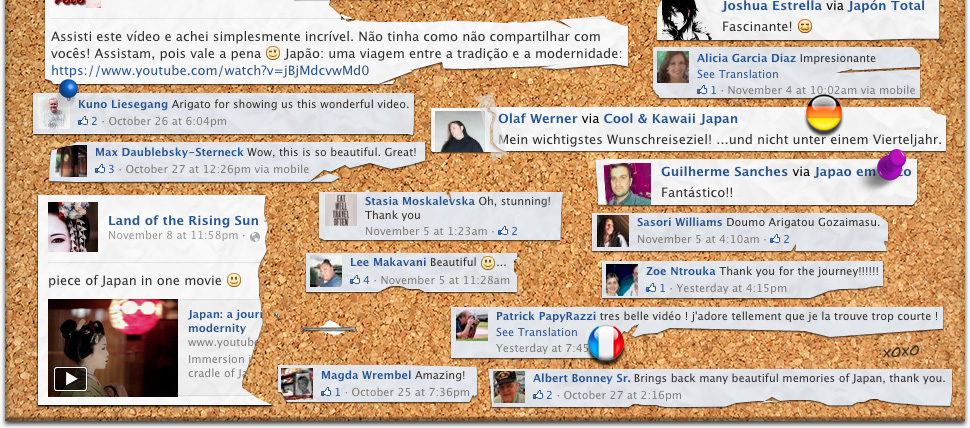 -AMNESI
A
RT-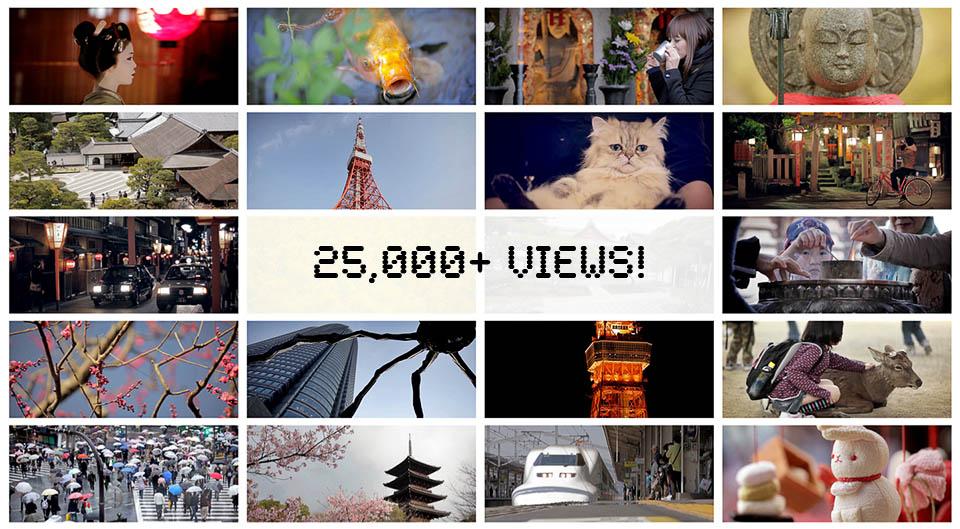 The last few weeks were simply amazing! We'd like to thank you all for your countless comments, shares, likes and already more than 25,000 views on YouTube!
It's getting more and more difficult to keep track on all activities and "buzz" surrounding our film... In the coming days we'll post some updates regarding Facebook and other social networks, so keep an eye on our blog!
Thank you all again, the best is definitely yet to come!
-AMNESI
A
RT-
(The ones who already read the first part of our blog post, can skip the description below and enjoy the latest still frames we picked.)
Because films are pictures in motion...
We wish to present some of the best moments, to the people who haven't got a chance to watch our film yet. For those who have, they would appreciate these unique instants, selected by AmnesiArt.
A first stay in Japan allowed us to discover its rich culture, its fascinating architecture and respectful people. After this deep experience, we built this project and finally made it possible thanks to a two weeks shooting between Kyoto, the cultural capital, and Tokyo, the symbol of modernity.
Through our vision, we wanted to share the special atmosphere offered by this country. We had in mind to recreate emotions we experienced, by capturing these genuine moments.
AmnesiArt comments these still frames from its film: "Japan: A Journey Between Tradition And Modernity".
Roppongi Hills Mori Tower, "Maman" Giant Spider Sculpture, Tokyo - Japan
After a long scouting, we found the ideal spot beneath this intimidating sculpture, to fully bring out the Mori Tower dimension.
Japanese Woman Drinking "Sacred Water" from Otowa-no-taki Waterfall, Kiyomizu Temple, Kyoto - Japan
We had to bring together the necessary conditions, to capture this scene full of symbols.
Tokyo Tower Observation Deck at Night, Tokyo - Japan
We managed to get these images of the Tokyo Tower, after walking the capital's streets most of the night, searching for the perfect angle.
Hanging Hina Dolls, outside Chirimen Craft Museum, Ginkaku-ji Gift Shop in Kyoto - Japan
The choice of framing has been thought out, to properly reveal the Kawai spirit represented by these miniature dolls.
Japanese School Girl Fondles a Sika Deer in Nara - Japan
We chose a tight shot for this scene, to enhance the affective relationship between this little girl and the deer.
Rapeseed Blossoms in Hamarikyu Gardens, Tokyo - Japan
The wind blowing on this flowers field, allowed us to offer a moment of poetry and escape.
Shinkansen Bullet Train at Himeji Railway Station, Himeji - Japan
We decided to put the camera on the ground to reinforce the arrival of the impressive Shinkansen train.
Ginshadan "Sea of Silver Sand" at Ginkaku-ji Temple, Silver Pavilion in Kyoto, Japan
After climbing numerous sets of stairs, we reached Ginkaku-ji's highest point to focus on the meticulous work made on the "Sea of Silver Sand".
Maiko (Apprentice Geisha) Walking by Night on Hanami-koji Street in Gion, Kyoto - Japan
Knowing the furtive behaviour of Geishas, we had no margin for error regarding this shot!
Cherry Blossoms, Toji Temple in Kyoto - Japan
The choice of using a wide shot, perfectly shows the flowered environment in which the To-ji temple stands.
-AMNESI
A
RT-